To honor faculty members who have distinguished themselves as excellent mentors of Wake Forest undergraduate scholars, the URECA Center has established a faculty award for Excellence in Mentorship in Research and Creative Work.  The award recognizes those faculty who share their passion for scholarship and creative activities, and who encourage and inspire their students to work closely with them.  Each year, URECA presents two awards: one to a faculty member in the arts or humanities and another to a faculty member in the sciences or social sciences.
We invite faculty and students to nominate faculty for this award. Nominations are not limited to faculty who have participated in Wake Forest Summer Fellowships or the Richter Scholarship Program, but to all faculty who have served or continue to serve as mentors for undergraduate scholarly work.  Nominations are accepted during the fall semester, and awards are presented during the spring semester.
Department Chairs, faculty, or students should make effort to submit one file including the following:
Candidate's CV with a list of mentored projects and any publications with students.
Chair's letter of nomination (1-2 pages) that may include the following:

A description of the ways the nominee has influenced or encouraged the scholarly or creative work of an individual or group of undergraduate students. You may include not only collaborative work that the nominee has initiated through summer fellowships, but also directed readings, independent studies, departmental honors, externally funded research, etc.
The nominee's history of mentored scholarly projects and any publications with undergraduates if not mentioned in CV.
Notable scholarly or creative accomplishments of undergraduate students who have worked with the nominee, for example, scholarly participation in presentations and performances and/or at conferences.
Notable scholarly or creative accomplishments of the nominee that were influenced or inspired by collaborations with students.

A maximum of three letters from students or faculty who can attest to the nominee's qualifications for the award.
2020 Winners:
Faculty Award for Excellence in Mentored Scholarship in the Sciences and Social Sciences
Patricia Dos Santos, Department of Chemistry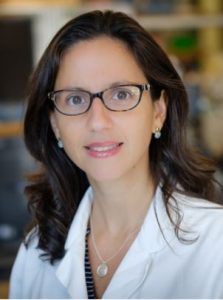 The chair who nominated the recipient of the excellence in mentored scholarship in the sciences award wrote that she "fully incorporates undergraduates into her research group and makes them integral parts of [her] team." In her 12 years in the Wake Forest Chemistry department, the award winner has mentored 54 students, including 21 who completed departmental honors theses. Her students have contributed to publications and given presentations at national and international conferences. Her mentorship has a broad reach, in that her NSF grants have supported students from Salem College, Winston-Salem State University, and other local institutions to join Wake Forest research labs. Former student Hannah Martin writes "Dr. Dos Santos … gave me the freedom to think for myself and be creative. She is endlessly dedicated to her students…Working with [her] allowed me to attend a medical school with a dedicated research year, where I am now applying the lessons she taught me to new research questions." Courtney Smith, nearing completion of a PhD in Pharmacology at Yale, said "Dr. Dos Santos guided my research efforts and created a positive learning environment that was a great place to grow as a scientist, while also taking time to discuss and help me make strides towards my career goals…I wouldn't be where I am today without her guidance and support!" For her consistent contribution to guiding undergraduates in the discipline of biological chemistry, the URECA Center is honored to recognize Dr. Patricia Dos Santos for her excellence in mentored scholarship in the sciences.
Faculty Award for Excellence in Mentored Scholarship in the Arts and Humanities
Zak Lancaster, Department of English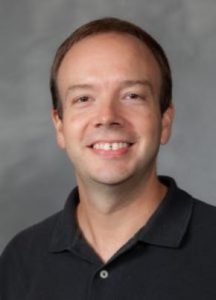 The recipient of this year's faculty award for excellence in mentored scholarship in the humanities has guided student research projects in linguistic analysis of student writing since joining the Wake Forest English department in 2012. As described by his department chair, the award winner is "an exemplary mentor of student research in every way…students learn immensely from their work with him as they encounter new worlds of academic inquiry." His students have presented their work in the Smithsonian "castle" on the National Mall, engaging visitors in conversations about language and meaning while slide shows ran on screens behind them. Former student Maddie Moseley wrote that Dr. Zak Lancaster "not only strives to make students the best that they can be, but he values their experience in making sure they are excited and enjoying the opportunity to learn." Keru Lou wrote "he is interested in and also shows respect to my cultural background as I am international student…our discussion about cultural values eventually developed into one of the areas of findings in our research…I learned so much about research skills, linguistic concepts, and cultural differences while working with Dr. Lancaster." The URECA Center is honored to recognize Dr. Zak Lancaster for his excellence in mentored scholarship in the humanities.
Past winners of the URECA Mentorship Award
2019
Dr. Erin Fulp, Professor of Computer Science
Dr. Lisa Blee, Associate Professor of History
2018
Dr. Oana Jurchescu, Professor of Physics
Dr. Jefferson Holdridge, Professor of English
2017
Dr. Stewart Carter, Professor of Music
Dr. Patricia Nixon, Professor of Health and Exercise Science
2016
Dr. Laura Aull, Assistant Professor of English and Linguistics
Dr. Ken Berenhaut, Professor of Mathematics
2015
Ana Iltis, Professor of Philosophy
Steven Folmar, Associate Professor of Anthropology
2014
Nate Plageman, Associate Professor of History
Gloria Muday, Professor of Biology
2013
Harry Titus, Professor Emeritus of Art History
Ronald Noftle, Professor Emeritus of Chemistry