for Excellence in Mentorship
in Research and Creative Work
To honor faculty members who have distinguished themselves as excellent mentors of Wake Forest undergraduate scholars, the URECA Center has established a faculty award for Excellence in Mentorship in Research and Creative Work.  The award recognizes those faculty who share their passion for scholarship and creative activities, and who encourage and inspire their students to work closely with them.  Each year, URECA presents two awards: one to a faculty member in the arts and humanities and another to a faculty member in the sciences or social sciences.
We invite faculty and students to nominate faculty for this award. Nominations are not limited to faculty who have participated in Wake Forest Summer Fellowships or the Richter Scholarship Program, but to all faculty who have served or continue to serve as mentors for undergraduate scholarly work.  Nominations are accepted in the Fall semester, and the awards are presented at Founders Day.
This Year's Winners:
2017 Faculty Award for Excellence in Mentored Scholarship in the Arts and Humanities
The awards honoring teaching, service and research were presented at Founders' Day Convocation, Thursday, February 15, 2018.
Patricia Nixon, Department of Health and Exercise Science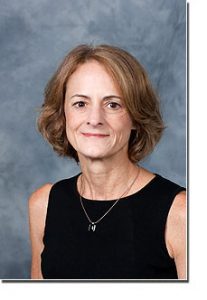 Instrumental in designing the department's three-tiered undergraduate research program, health and exercise science professor Pat Nixon has been actively involved in mentoring students since she arrived at Wake Forest in 1999. One of those students who asked her for support on his undergraduate research said, "When I approached Dr. Nixon and asked to work with her, I thought it would be a long shot, but what followed was without a doubt one of my most memorable experiences at Wake." She continues to place her support for undergraduate research and her students at the highest priority.
Stewart Carter, Department of Music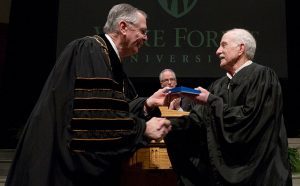 Since 1982, music professor Stewart Carter has inspired both students and colleagues. One colleague described him as a "model of how to gracefully combine scholarship, service, teaching and mentorship." He manages to maintain an impressive publication record while serving as department chair and generously spending many hours fostering student research. One of his students said, "He offers sage advice on how to craft a coherent argument from Latin texts, historical anecdotes, musical analyses and poetic texts." Carter's generosity of spirit has benefited both students and faculty.
Past winners of the URECA Mentorship Award
2016
Dr. Laura Aull, Assistant Professor of English and Linguistics
Dr. Ken Berenhaut, Professor of Mathematics
2015
Ana Iltis, Professor of Philosophy
Steven Folmar, Associate Professor of Anthropology
2014
Nate Plageman, Associate Professor of History
Gloria Muday, Professor of Biology
2013
Harry Titus, Professor Emeritus of Art History
Ronald Noftle, Professor Emeritus of Chemistry