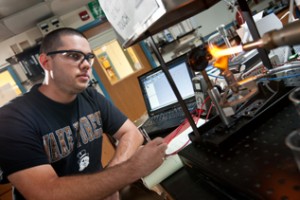 The members of URECA's Executive Committee include faculty from all divisions of the college, including the arts, humanities, sciences, and social sciences.  Feel free to contact any of our members if you have questions about our mission or our programs.  Additionally, we are always happy to consider suggestions about new ways to support our faculty and students in mentored scholarship.
Send an email to URECA
URECA Executive Committee:
Wayne E. Pratt, Director, URECA Center (Professor of Psychology, Division IV, Director of Undergraduate Studies, Department of Psychology)
Rebecca Alexander (Professor of Chemistry, Division V, Associate Dean for Research and Community Engagement, Director, Wake Downtown)
Anne Boyle (Professor of English, Division II
Cindy Gendrich (Professor of  Theatre, Division III)
Shannon Mihalko (Professor of Health & Exercise Science, Division V)
John Oksanish (Associate Professor of Classics, Division II)
Jake Ruddiman (Associate Professor of History, Division I)
Paul Thacker (Associate Professor of Anthropology, Division IV)
Like our Facebook Page for photos and updates on the URECA Center!